Permethrin 10%
This multipurpose insecticide is a long lasting livestock and premise spray. It provides a quick knockdown on a broad spectrum of insects with an effective residual for up to 28 days.
One pint makes 100 gallons of cattle spray and up to 25 gallons of dog dip. For use on cattle, lactating dairy cattle horses, swine, poultry and dogs. Controls horn flies, face flies, lice, ticks and deer ticks. May not be used on cats.
Stock Tox-X
Martins Stock-Tox-X is a Permethrin product that is petroleum based for the control of pests like poultry lice, lessor meal worms (darling beetle), fowl mites, horn flies, bed bugs, fleas, house flies, ticks and many others that are listed on the label. Use Martins Stock-Tox-X on beef or dairy cattle, sheep and goats, horses, swine, dogs, and poultry. Martins Stock-Tox-X can be used indoors and outdoors in dairies, poultry houses, milking parlors, cattle barns, horse barns, swine houses, homes, commercial buildings, motels, schools, hotels, restaurants, hospitals, food/feed establishments, kennels, and other use sites listed on the label.
Mix Martins Stock-Tox-X with oil for use with a back rubber.
Cyonara Plus
Martins Cyonara Plus Pour-On Topical Insecticide is a ready-to-use (RTU) oil-based formulation of Lambda-Cyhalothrin 1% and the synergist Piperonyl Butoxide (PBO) 5%.  Martins Cyonara Plus Pour-On Topical Insecticide is effective in controlling horn flies and lice on calves, beef cattle, and cows. Compare Martins Cyonara Plus Pour-On Topical Insecticide to Ultra Saber.
Horse & Stable
Ready to use. For control of fleas, brown dog ticks, lice, flies, and many garden insects. May be used on beef cows, dairy cows, hogs, goats, sheep, horses and dogs. Contains: .5% Permethrin and Citronella.
Dairy Bomb 55
Dairy Bomb-55Z kills and repels flying and crawling insects in homes, dairies, milk houses, horse barns, cattle operations, poultry barns, hog barns, food processing plants, restaurants as well as outdoor areas. Can also be used directly on cattle, horses, swine, chickens and other livestock.
Kills and repels.

Natural pyrethrins formula provides quick knockdown and killing power.

Can be used on animals and premises (extensive label).

No oily residues.

Safe - no ozone depleting propellants.

Nonflammable - Level 1 aerosol - NFPA 30B standards.

Meets California VOC requirements.

Low odor formulation.

Optimum ratio of synergists to pyrethrin at 10 to 1 for the best killing power for insect control.

Ideal particle suspension throughout the life of the aerosol
Co-Ral Livestock dust
For the control of horn flies of beef and dairy cattle, the redution of face flies on beef and dairy cattle and the control of lice on swine.
Y-TEX Co-Ral® Dust contains coumaphos –one of the most respected active ingredients for livestock pest control. It has now been combined with an exclusive Y-TEX dust formulation for improved efficacy when used in the Y-TEX A-line dust bag. Co-Ral® is an organophosphate dust which has been proven to control pyrethroid-resistant horn flies
Turkey, Chicken & Swine Wormer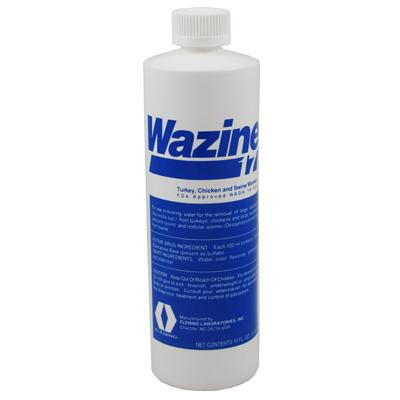 Wazine Poultry Wormer Pint. For use in drinking water for the removal of large roundworms (Ascaridia spp.) from turkeys, chickens and large roundworms (Ascaris suum) and nodular worms (Oesophagostomum spp.) from swine.