Max E Glo Rice Bran Meal
Max-E-Glo™ stabilized rice bran, the rice bran horse owners prefer, is a superior performance supplement specifically formulated for horses. 
Max-E-Glo is available in both pelleted and meal forms and offers several nutrition benefits for your horse:
One Year Freshness Guaranteed.  Ensures that your horse is getting fresh, palatable product every time.
Unique Stabilization Process.  Rice bran is the most nutritious part of the rice kernel, but it is important that it is stabilized properly.  NutraCea's® proprietary stabilization process ensures that Max-E-Glo will not become rancid.
"Cool" Nutrition.  High fat and fiber content maintains energy without high-starch hyperactivity, providing your horse with a safe diet.
High Fat for Extra Energy.  High in natural plant-based fat, highly digestible and very palatable.
Superior Top Dress.  Mixes well with other feeds to provide a premium performance supplement.
Triple Crown 30% Supplement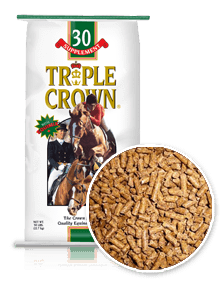 A pelleted vitamin and mineral supplement for growing horses and broodmares.
Designed for those who prefer to feed their horses grains and/or forage products, but who want all the benefits of Triple Crown Nutrition's EquiMix technology and revolutionary formula. This pelleted supplement is specifically designed for growing horses and broodmares as well as those performance horses who need quality protein. Available in 50 lb. bags.
Platform Electrolyte
Replenishes vital nutrients lost during exercise
Specially formulated with essential amino acids and electrolytes needed for fast recovery after exercise
No risk of over-supplementation
Color coded for ease of use
Brown extruded nugget
Available in 2.8 lb, 45 day supply bucket
DuraLyte Electrolytes
Apple flavored DuraLyte A™, cherry flavored DuraLyte C™ and tropical fruit flavored DuraLyte T™ are supplements designed for the support of normal recovery time after strenuous activity and help maintain a normal electrolyte balance year round.
Dark Horse Nu-Image
Developed specifically for black, bay and brown horses, Dark Horse Nu-Image® is scientifically formulated to enhance shiny coats and lustrous manes and tails in dark-colored horses. Dark Horse Nu-Image® is rich in both Omega-3 and Omega-6 fatty acid compounds, and the proper balance of key amino acids, B Vitamins, Zinc, and Copper.  Dark Horse Nu-Image® also contains Kelp and Paprika to help enhance dark pigments. A must for those trying to prevent that "sunburned" orange discoloration in dark-coated horses.
Legacy Pellets
Formulated specifically for senior horses, Legacy™ is an unmatched value that supports joint, connective tissue and soft tissue health in horses 15 years or older. 
Easy-to-administer pellets contain the key ingredients Glucosamine, Chondroitin Sulfate, MSM (Methylsulfonylmethane), Yucca, Ester-C® and Vitamin E.
Also contains stabilized rice bran and dry yeast culture for palatability and digestive support.
Ani Med MSM
MSM is rapidly establishing as a natural solution for many types of pain and inflammation. MSM is a bio-available source of dietary sulfur to aid in the synthesis of collagen, which promotes joint, cartilage and skin.
FSO™ Flaxseed Oil Blend
A natural source of Omega 3 Fatty Acids essential for healthy skin, coat and hooves.
AniMed's Flaxseed Oil blend is one of the richest, natural sources of Omega 3 and Omega 6 fatty acids, including alpha-linolenic acid (ALA) derived from plant seeds.  Horses require a minimum level of fat in their diet for optimum health.   
GUARANTEED ANALYSIS: Nutritional Data per ounce:  Crude Protein (min) 1%, Crude Fat (min) 98%, Crude Fiber (max) >1%, Linolenic (Omega 3)(min) 2000mg, Linoleic (Omega 6)(min) 1500mg, Unsaponifiable matter less than 2%, Insolubles less that 1%
INGREDIENTS:  Soybean Oil, Flaxseed Oil (cold pressed, organic)
WGO™ Wheat Germ Oil Blend
A source of natural Vitamin E, Omega 3 and Omega 6 with added Vitamins A, D3 and E
AniMed's Wheat Germ Oil Blend is an excellent source of energy, supporting normal physical and mental performance while helping achieve a soft, shiny and healthy coat.  It is a rich source of natural Vitamin E and fatty acids, fortified with Vitamin A, Vitamin D and Vitamin E for horses of all classes, dogs of all ages and other farm animals.
GUARANTEED ANALYSIS (Nutritional Data per two ounces):  Crude Protein (min) >1%, Crude Fat (min) 95%, Crude Fiber (max) >1%, Vitamin A (min) 63,000IU, Vitamin D3 (min) 16,000IU, Vitamin E (min) 300IU, Linolenic (Omega 3)  (min) 3400mg,  Linoleic (Omega 6) (min) 24,000mg, Unsaponifiable matter less than 2%, Insolubles less than 1%  
INGREDIENTS:  Soybean Oil, Wheat Germ Oil, Retinyl propionate (Vitamin A), Cholecalciferol (Vitamin D), dl-Alpha Tocopheryl Acetate (Vitamin E), BHT (preservative), propylene glycol