Permethrin 10%
This multipurpose insecticide is a long lasting livestock and premise spray. It provides a quick knockdown on a broad spectrum of insects with an effective residual for up to 28 days.
One pint makes 100 gallons of cattle spray and up to 25 gallons of dog dip. For use on cattle, lactating dairy cattle horses, swine, poultry and dogs. Controls horn flies, face flies, lice, ticks and deer ticks. May not be used on cats.
Horse & Stable
Ready to use. For control of fleas, brown dog ticks, lice, flies, and many garden insects. May be used on beef cows, dairy cows, hogs, goats, sheep, horses and dogs. Contains: .5% Permethrin and Citronella.
Pyranha Wipe n Spray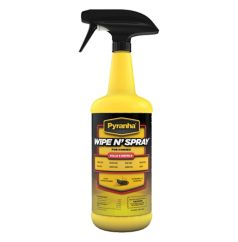 Pyranha® Wipe N' Spray™ is a pyrethrum-based formula that is applied directly on the animal. This ready-to-use product provides fly protection and imparts a high sheen to the hair when brushed out. A favorite of show horse owners, effective protection results from only 1 to 2 ounces per head. Wipe N' Spray is citronella scented and contains lanolin as a coat conditioner. It has been proven effective on biting flies, mosquitoes, gnats, fleas and ticks.
Farnam Endure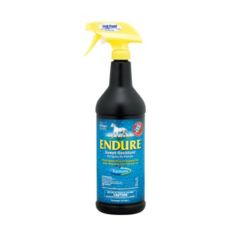 Highly effective oil-based fly spray that won't sweat off or decrease in efficacy in wet conditions, provides up to 14 days of fly control.
Proprietary fly spray with RepelLock® formulation – which is an exclusive conditioner that binds to the hair shaft, locking in the fly repellency of Endure® fly spray

Protects against biting and nuisance flies, gnats, deer ticks and lice, while also providing repellency and quick knockdowns of mosquitoes

Official Fly Control Product of the USEF and AQHA
Country Vet Metered Fly Spray
Country Vet® Metered Fly Spray

Country Vet® Metered Fly Spray contains 0.975% Pyrethrins from Chrysanthemum flowers to effectively kill & repel flies, mosquitoes, gnats and small flying moths
EPA Registered and USDA rated for use in food processing and handling areas
High quality, economical automatic flying insect control
For use in all standard Country Vet Automatic Metered Dispensers
Manna Pro Fly & Mosquito Spray
(Manna Pro) Ready-to-Use insecticide wipe/spray-on for horses dogs and ponies. Kills and Repels Mosquitoes to help protect against West Nile Virus. Powerful formula contains .25% Permethrin to protect against Horse Flies Stable Flies Face Flies Deer Flies Horn Flies Mosquitoes and Gnats.Longest residual action formula to control pests for up to 4 weeks
Fly Mask
The FlyRid DuraMask V Horse Fly Mask repels flies and other biting insects from your horse.
Benefits:
Rub free design with all edges trimmed in fleece
Decreased attraction of debris with fleece trim
Superior eye dart stitching for enhanced safety
Extra reinforcement for durability
Excellent quality at an incredible value
Repels flies and other biting insects
Clear vision
Double locking fastener hidden under the jaw
Comfortable fit with fleece edges
Available in 5 sizes: Pony, Yearling, Arabian, Horse, and X-Large.
Stable Fly Trap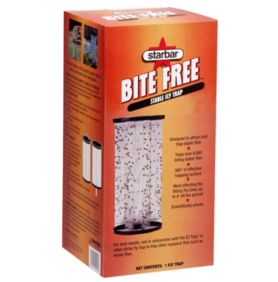 No insecticides!
Easy and economical to use – holds more than other sticky traps.
Disposable – when full, just throw away

Weatherproof – special adhesive won't melt or wash away

Compact size – offers a 350 degrees trapping surface that holds 8,000 flies

Ideal for use around stables, cattle ranches, poultry operations, kennels, restaurants, home and garden.
Captivator Fly Trap
Captivator® Fly Trap, the heavy-duty, reusable and economical plastic jar comes complete with 1 tube of attractant. Just squeeze attractant into jar and add water. Captivator® Fly Trap's one-way entry system keeps flies in the trap and its 2 quart capacity means minimal maintenance.
Features:
Catchmaster Fly Catcher
Fly catchers are one of the best environmentally sound products you can use.

They are Safe, Non-Toxic, all natural and non-polluting.

Best of all, they control flies mechanically so they can never develop a chemical resistance.

The Revenge Fly Catchers are a major improvement in new manufacturing techniques and superior insect catch rates.

handle makes trap easy to hang.