Textured Feed & Rice Bran Oil
Triple Crown Complete
A high fiber, beet pulp based feed; May be used as a partial hay replacement and ideal for horses with gastric ulcers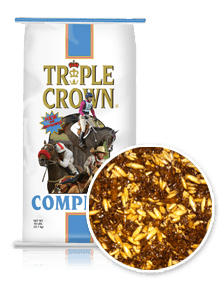 Horses naturally eat fiber. But for years, grains (corn, barley and oats) have been the standard for horse feed–even though research has proven that the high-soluble carbohydrates in grain-based feeds increase the potential for colic, laminitis, hyperactivity, ulcers and cribbing. With its beet pulp based fiber content Triple Crown® Complete provides 13% protein, 13% fat and all the calories, vitamins and minerals of a grain-based feed–but with half of the potentially harmful soluble carbohydrates. Triple Crown Complete is the feed of choice for endurance horses or horses with garstic ulcers.
Triple Crown® Complete has the versatility to be fed in any hay or pasture situation, when hay and pasture are plentiful or to help when they are short.
Triple Crown Senior
A high fat, grain free, beet pulp based feed; ideal for older horses with metabolic issues.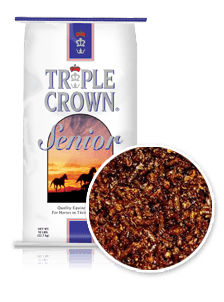 Developed specifically for older horses, this formula features a higher nutrient content to compensate for a less than effective digestive system. A higher fat content provides the extra energy older horses need. Plus, it is softer, more easily digested and can be mixed with water to form a mash for horses who experience difficulty chewing and swallowing. Triple Crown Senior also has enough bulk fiber to be used as the sole ration for horses unable to eat hay or pasture or it can be used with good quality hay. Available in 50 lb. bags.
Triple Crown Growth
Beet pulp based, low soluble carbohydrate feed for broodmares and foals up to 2 years of age.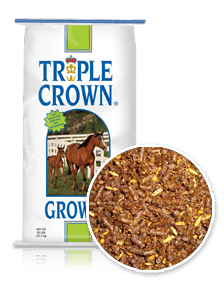 Triple Crown Growth is an equine feed product for weanlings, yearlings, and broodmares fortified to provide protein, essential amino acids, vitamins, macro minerals, trace minerals, bacteria and enzymes. Triple Crown Growth utilizes the latest research regarding nutritional support for sound growth in horses. Supplying a diet low in soluble carbohydrates and high in fat and fiber has been demonstrated to support fast and sound growth in a superior manner compared to traditional grain based diets high in soluble carbohydrates.
Triple Crown Rice Bran Oil
A high - fat supplement for performance horses & "hard keepers".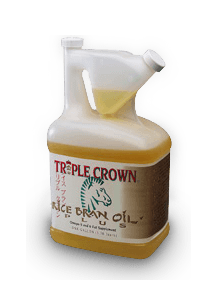 Triple Crown Rice Bran Oil Plus provides enhanced Omega-3 fatty acids through a unique combination of both Rice Bran Oil and Flaxseed Oil. We also add Soy Oil, which is high in Omega-6 fatty acids.
Omega-3 fatty acids are required for optimal immune system function, which in turn, improves health of the skin, hair, and liver function. Omega-6 fatty acids are effectively used for extra calories by hard working horses or hard-keepers.
However, an excess of Omega-6 fatty acids can interfere with the metabolism of Omega-3 fatty acids. Therefore, the proper blend of oils provided by Triple Crown Rice Bran Oil Plus ensures optimal performance and metabolism of both Omega-3 and Omega-6 fatty acids.